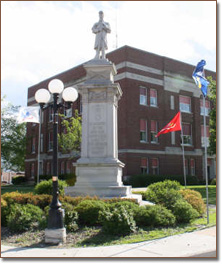 On behalf of Mount Ayr Chamber of Commerce we welcome you to Mount Ayr.
Mount Ayr is a quiet rural community surrounded by rich farmland in Southwestern Iowa, just 22 miles west of Interstate 35 on State Highway 2. Founded in 1875, the community was named in honor of poet Robert Burns' birthplace in Ayr, Scotland, and the "mount" was added to indicate its location on the highest point of land in the area. While retaining our past with historic buildings and cobblestone streets around our beautiful town square, we are moving towards the future with a new hospital, a new elementary school and a new jail.
Whether you are looking for a place to relocate and raise your children, to start up a business or a place to retire, we have it all.
============================